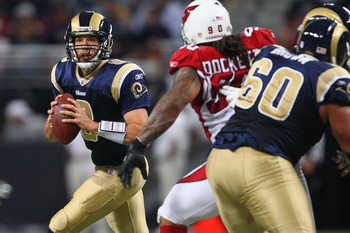 Well for a lot of reasons of course, but here is a count down of the top five reasons why this team lost yet another extremely winnable game against another lousy team.
5.
Offensive Line -
Yes, there are a lot of injuries, but this is the NFL and every team is going to run into this. For a few weeks there, it seemed they were starting to get it together and it was giving way for SJ39 to really be on a roll, but again injuries and a shift in the line and they no longer could open up holes for Jackson and against a poor team. Sure they seemed to protect Sam better overall but that was only because the game plan had Sam getting rid of the ball sooner.
4.
Sam Bradford -
Sorry Sam, we all know you've lost some key players that you were comfortable with but there comes a time in every QB's game that they have to take over the show, especially when that player is a number one draft pick! If a player is going to be the star they were drafted to be, there comes a time, that even when everything is falling apart around you that you have to pick the pieces up and start carrying the team on your back. Just ask SJ39. To become a good leader this is what is expected of you Sam, and you have yet to show any of us that you can do this. Sure Sam had an OK passer rating of 85.8, but OK is not what you are looking for from a #1 draft pick.
3.
Defensive Line and Linebackers -
The play of these guys was close to embarrassing once you realized that the Cards were playing a backup QB, and they made him look like a stud. Plus, playing a backup QB, didn't the Rams defense realize that they just might be running the ball just a tad more? Hello? Enter Beanie Wells and 238 yards later! Good grief, the second time they allowed a player to run wild for over 200 yards rushing! Now that's just simply embarrassing beyond words.
2.
Special Teams -
Oh my, did we forget about what happened just three weeks ago?
Dear Donnie Jones,

I just want to thank you for making me look like a Hall of Famer. I mean, seriously, I'm a talented dude, and I am a playmaker and all that, but come on, four punt return touchdowns of more than 80 yards for a touchdown? In one season?!? That's crazy!!!

And to think, I returned two of them against the Rams because you kept kicking the ball to me. I don't know if your coaches are just that stupid, or if you didn't do your job and kick away from me. Either way, it's doesn't matter. I'm a superstar now, and I have you to thank for it.

Sincerely,

Patrick Peterson
Someone help me here on this one! What were they thinking kicking it directly to this guy? After all the Cards learned really fast to keep it away from our new guy Nick or nail him after he ran it back for an 84 yard TD!
And drum roll please, the number one reason for losing this game and most of the other ones is......
1.
Coaching -
We are 2-9 for the year and just 10-33 under Spags for the past three years. They amazingly beat the Saints, one they probably should have lost, and beat an even worse than them Browns team. Oh whoop. Could have easily beaten the Skins and should have beat a horrible Cardinals team both times and they should and could easily be 5-6 right now and not 2-9.
There are just some guys that can find a way to will their teams to win under any circumstance, especially those in which are the close ones. If you are close in a game those coaches that know how to win and know how to get their team to believe in it, they more than likely are going to get that win. However, when your coach has only a 23% winning record, makes bad decisions, manages the clock poorly at key times in the game and has a so called stud for a QB that is regressing instead of getting better, it doesn't bode well for a coach or his team.
Simply put, the Rams do not know how to play winning football with Spags at the helm.
The question is, is there anyone out there that can come in and teach them how to win or is there too much damage already done?